Crest Nicholson Planning Application TM/11/01191 to build 171 Houses at Isles Quarry West, a contaminated 50's landfill site, to be called Hazlebourne
The Parish Council and residents have been subjected to a long term campaign of ridicule, lies and misinformation by Tonbridge & Malling Borough Council and Crest Nicholson. They are hellbent on these houses, and nothing, not contamination, polluted water, Air Quality or a failing sewage system, is going to stop them. Except perhaps the internet: and if you are reading this it might be working !! They can bully us and the planning committee, but they can't make YOU buy them, can they? Vote with your feet on our behalf, Please.
The 2005 Parish Plan was the secret weapon that got us into this. Whilst there was a public exhibition, there was no mention until afterwards, when supportive references to Isles Quarry for housing were inserted. And why didn't T&MBC investigate? T&MBC were actually in collusion with Hanson and the old Parish Council. We residents didn't understand the process, and before we knew it, the Inspector had approved Isles Quarry for 200+ houses.
When the new Parish Council took over in 2010, one of the first things we did was to invalidate the 2005 Plan, and approve a new one.
In 2012, just before the planning application was lodged, we continued to voice serious concerns about contamination and Crest had to make alterations,
PLANNING PERMISSION was granted in March 2013, but Crest had to submit an extra application for contamination, stability and surface water, TM/13/02358, which was passed by Officers by email on 21st November 2013, 3 weeks after we complained Crest had begun work without permission.
But Crest had already moved the contaminated material, and we have aerial pictures to prove it. We managed to get a Planning Hearing, to no avail, and so we issued Freedom of Information, which produced a few emails that reinforced what we had been saying. more details at www.boroughgreen-news.com
See link under map for more info.....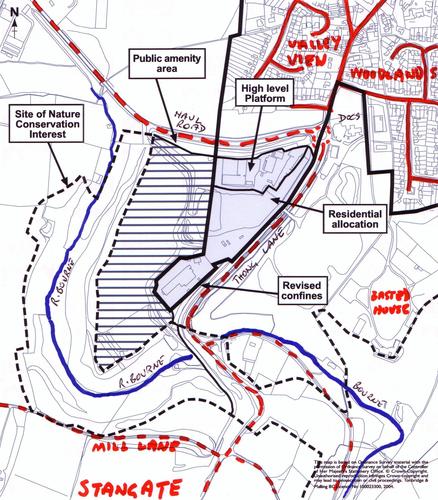 Isles Quarry has really become a hot potato, with a steadily growing public anger at the betrayal of the village by the Parish Council at the time, whodecided to engineer Isles Quarry's inclusion in Tonbridge & Malling policy for mass housing !!
This is a highly contaminated and unstable 60's landfill site, immediately adjacent to an industrial estate with 24 hour operations, and an access to Stangate Landfill and Gas Utilisation plant. Even more worrying is the plan to pile through the contaminated landfill onto the limestone bedrock containing the Principal Water Extraction Aquifer for the area.
For more details and evidence click the link, http://www.boroughgreen-news.com