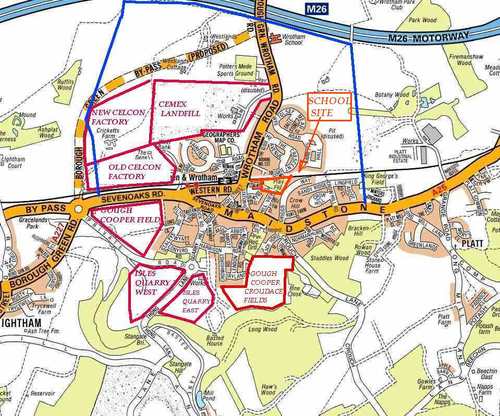 This may be just Wild Speculation, but............

There is no doubt that the traffic situation in Borough Green is untenable, carving our village into three parts and endangering all our lives. No-one can doubt my devoted support for the Borough Green Bypass over the past few years, but over the years I have stumbled on a disparate collection of facts that COULD add up to a rather alarming conclusion, but I will leave it to you to decide:
In 2003 and 1997 Borough Green Parish Council applied to have all land within the bounds of the Bypass, the A25 Darkhill, and the A227 Wrotham Road removed from Greenbelt protection.
In 2007 BGPC discussed applying to have their Parish Boundary moved north as far as the M26, effectively enclosing the above piece of land and bringing within their control for planning consultation.
In 2009 Borough Green Parish Council stepped out of line with the majority of local people, largely on the prompting of Borough Councillor Sue Murray; and supported Cemex's application to increase the amount of tippers using the Wrotham Rd Landfill site. Was this a ploy to fill the pit sooner, and allow Cemex to realise its plans for mass housing much sooner?
Between 2003 & 2007 BGPC successfully colluded with TMBC and Hanson to have Isles Quarry West removed from the Greenbelt, and the Local Development Framework Inquiry Inspector approved the idea of 200 PLUS house on the site.
Whilst Ightham and Wrotham were "unsustainable" and could not be developed, TMBC decided that Borough Green had the infrastructure and SHOULD be developed, and designated it as a "Rural Service Centre"
In the same LDF submissions stage Cemex attempted to have their landfill site on Wrotham Rd allocated for housing.
In 2006 BGPC sent a submission to the KCC Planning Committee OPPOSING the Celcon Factory. They were caught and forced by public opinion to reverse their submission.
Celcon dearly wanted their new factory next to the old one, and will fund our Bypass. Now they are thwarted, commercial pressure to find a new site may force them into relocating the old factory as well. The land the old factory stands on is Brownfield, outside the Greenbelt, and would very quickly be snapped up for housing.
The Gough Cooper landbank field to the south of the A25 at Darkhill is at present well outside the natural village envelope, and forms part of the green wedge between Borough Green and Ightham. But if IQW and the old Celcon site are developed, that field will come within the village envelope.
BGPC have dangled the possibility of a new primary school at IQE, but Hanson do not accept this as part of their brief. So a School could be built ar IQE, but only by paying a developer with the old Primary School site as a location for another 150-200 houses.
I just sometimes get this creepy feeling that we are being suckered into campaigning for a Bypass that will be used as an access for a massive housing development that will circle Borough Green from Potters Mede in the North to Isles Quarry East in the south, and I reckon that land could take in excess of 2000 houses. So what do we do now????
I will still fight passionately for our Bypass, but I will be ever vigilant for the developer's knife in our backs.
I have outlined the suspect sites on the map above in red, and marked the proposed new Parish Boundary in blue.